Houston, we have a toddler! My precious little peanut has morphed into a mini human right before my eyes. As of January 25th she officially turned ONE, so of course we had to celebrate… and do it in a big way!
If you know me, you know I NEED to have color in my life. It's just an essential element in my day to day.
So I thought, how to best fit ROYGBIV into a birthday bash? Bring on the unicorns, of course!
Yes, unicorn parties are all over Pinterest, and yes they've been done over and over and over again. But, I don't think that should dissuade anyone from centering their party around them.
Instead, I decided to give the classical colorful ponies theme a little tweak. And since we have a "warrior princess", that meant adding some superhero pizzazz.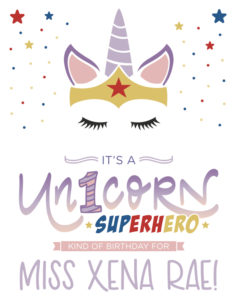 After all, why CAN'T a unicorn wear a cape? They're already magical, this just made them extra SUPER.
So with that, personalized Paperless Posts were sent, and it was time to piece together an actual plan. Entertaining a front yard filled with tots and toddlers is easier said than done, and of course I didn't want their parents pulling their hair out in the process either.
What's the recipe to making it work? Well, these were the key ingredients that at least did it for ME:
Adult beverage bucket. Trust me on this one, mommies and daddies need to celebrate their year of survival too! Pair that with a squeezy pouch "baby bar" and the happy hour has officially begun.
Personalized water bottles – aka themed labels that you DIY stick over basic everyday disposable bottles.
Ball pit. This is basically a glorified "baby jail" that will keep your tiny guests entertained for enough time to allow you to actually have a conversation with another adult (which if you have a small child you know is NOT something to be taken for granted!).
Party favors that are usable DURING the party. Why wait until everyone leaves? Let your favors do YOU a favor and distract these babes for a bit! We chose to have unicorn bubble blowers, and they really made the party "pop" (no pun intended).
Themed treats. A "smash cake" (basically an XL cupcake) is a MUST for any first birthday as most almost-one-year-olds, at this point, haven't experienced a true sugar-high. We, of course, adorned ours with every food dye variety available (no judging, health-nut moms!) as well as a golden unicorn horn. As for the other munchies, I tracked down rainbow bagels (from NYC), sprinkled donuts (from L.A.), and then as a "berry on top", asked Amaze Bowls (also L.A.) to come out and whip us up smoothie bowls for the guests. I loved that they were a. colorful b. so tasty c. highly Instagram-worthy d. healthy e. kid and parent approved (a rare combination). Everyone went coconuts for them!
An "about the birthday girl" poster surrounded by photos taken on her month-a-birthday milestones. This is where all the "Letter Folk"-ing and monthly reminders paid off. Guests loved seeing how much Miss Xena had grown which, by the way, is a LOT.
Outfits. These are so very essential to really stepping up a theme, but so many people forget about them until day of! Of course the babies tend to wind up with a crown, but why not have mommy and daddy look the part too?! It doesn't have to be complicated or over the top… Amazon and Etsy saved the day for us here.
"Fill in the blanks". As for the rest of the décor (which you can buy, rent OR borrow!), it was a treasure hunt finding themed napkins and plates, tablecloths and cups, flowers, balloons and inflatables but these made such a difference.
At the end of the day, my dearest husband told me that it was fairly obvious that this party was "really for me" as Xena would likely have zero recollection of it. And sure, maybe he was right, but I truly didn't care. We deserved a day to pat ourselves on the back, cheers with our friends and fam, and acknowledge that before moving on to toddler-hood we have done a darn decent job.
These photos will last a lifetime, and I KNOW Xena will love the trip down this magical memory lane too. No one can rain(bow) on my parade!
Xoxo,
ICIWID