Summer's over! No more white shoes allowed, so long rosé, it's back to work, back to school, time to get serious, refill the piggy bank, say ta ta to weekends away and hello to rushed lunches, too much caffeine and way too little time in a day.
If the period between my last blog and this one is any indication, I've been overwhelmed and running thin (to say the least – although also sadly not physically!) ever since I made my leap back into the real estate world. I now work enough that I definitely need help but don't have the 9-5 structure or reliable paycheck to justify "full time" or even "part time" care.
So, I find myself in a daily frenzy of booking calls during ever-variable nap schedules, running down the street to my mom "Gram Tam" with bottles, burp cloths and my now seven-month-old, and feel like I'm quickly putting my personal "well being" lower and lower down the totem pole.
THANKFULLY, I DID take the time this Summer to do a little bit of fresh diet delivery program investigative research and now THANK MYSELF when I hustle out the door and can grab a pre-packed HEALTHY option for the road.
I tried four of the top (mostly L.A. based/focused) companies, one per week, for a month. The key for me was convenience, ingredients, taste and "bang for your buck" …
Who were they? All so different, and lucky for me, each a winner in their own way. The companies were: Kooshi, Thistle, Crateful and Model Meals.
I wasn't sponsored, although certainly took advantage of "first week trial" auto-offers. Kooshi didn't offer a welcome week discount and Model Meals generously gave me two days of food to try for free.
As mentioned before, I'm guessing you all have close to as short of attention spans right now as I do, so I thought I'd make it easy for you and break each program down. Without further adieu, let's dig in:

Website: https://www.kooshigourmet.com/
The 411: Kooshi makes you feel like you're Keeping Right Up with those Kardashians. It's super swanky, gluten-free, organic meals are delivered right to door every single night. It's basically like having a personal chef, who doesn't mess up your kitchen in the process.
Menus they offer: Signature, paleo, pescetarian, vegetarian, detox.
What you can order: B, L & D/ B & L/ B & D/ L & D/ only dinner.
What I ordered: The "Signature" B, L & D (I also got a "healthy snack & gluten free dessert" each day).
Sample menu: Breakfast: Meyer lemon pancakes with Greek yogurt, agave and fresh berries. Lunch: Chinese chicken salad with navel oranges, toasted almonds and sesame mirin dressing. Dinner: Pan seared wild Alaskan salmon with braised black lentils and steamed grilled asparagus.
Price: This 5-day package was $342 + $42.50 shipping and handling (and no discount for trying) AKA definitely the most expensive of the programs… That being said, you don't have to do all 5 days at once, and I ordered just about as much as you could (without all three meals and/or snacks and a dessert it would be less). If I were to do it again, I would just order for every Monday (or whatever day is your favorite, or I guess "least favorite" in this case) for 5 weeks so you can space it out.
Thoughts: As sweet as it was to feel like a celebrity for 5 days, eating fancy fresh meals, for my current situation, it is just too expensive to maintain. Also, I found that most meals had to be heated up and prepped pre-eating, and with a little baby attached to my hip that tended to be easier said than done.

Website: https://www.thistle.co/
The 411: Thistle is a plant-based program that will instantly make you grab your iPhone for an insta-famous-worthy pic. The packaging and plating was beyond my wildest dreams. Not to mention, it is ultra-filling and delicious.
Menus they offer: One menu per week. You can swap out meals if you'd prefer another!
What you can order: B, L and D in any combination and the option to add meat protein, snacks and a daily juice.
What I ordered: B, L & D w. meat (I also got their daily juice and snack).
Sample menu: Breakfast: acai-mango smoothie bowl topped with hemp seeds, puffed quinoa, moringa and goji berries. Lunch: Waldorf salad with Brussel sprouts, radicchio and arugula topped with grapes, sweet dried apples, herbed quinoa, tarragon chicken and crunchy spiced walnuts served with creamy poppy seed dressing. Dinner: harvest vegetable pasta with herbed chicken sausage and sunflower seed pesto. Snack: beet hummus with crudités.
Price: This 5-day package was $238.45 + free shipping and handling. The snack and fresh pressed juice made up for $15 in there. They offer local deliveries Monday, Wednesdays and Fridays. Click here to try two free meals.
If I were to do it again: I would order only breakfast and lunch with a fresh pressed juice 3x/week. This gives me the flexibility to have a lunch out (and eat the (usually) salad for dinner that day) or be able to cook for the hubs so we can eat dinner together.
Thoughts: The obsession is real. Very real. I have attempted MANY meal and diet delivery programs and have to say I have never been so fulfilled or excited about eating clean as I was with Thistle. Their lunch salads are BIG and beyond tasty. Each meal is exceptionally easy to grab-and-go and you always feel rather chic pulling out a smoothie bowl or juice in the car or office.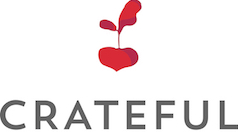 Website: https://www.eatcrateful.com/
The 411: With menu names like "Graceful", "Wonderful", "Powerful" and "Mindful", Crateful is all about positive "healthy mind healthy body" holistic, yogi-type vibes.
Menus they offer: Each of the four menus is designed for someone and something different. Graceful is low-cal, Wonderful is their James Beard "award winning chef" maintenance menu, Powerful is protein packed and higher in calories, and Mindful is all vegetarian.
What you can order: Each day comes with lunch and dinner and the option to add breakfast and a dessert.
What I ordered: All of the above! Because, duh, I had to play the thorough detective.
Sample menu: Breakfast: pancakes with strawberries, home made syrup, Greek yogurt with fruit and granola. Lunch: chickpeas cake with radishes and three broccoli minestra. Dinner: angus beef tataki with sautéed arugula, mesclun salad and grilled artichokes.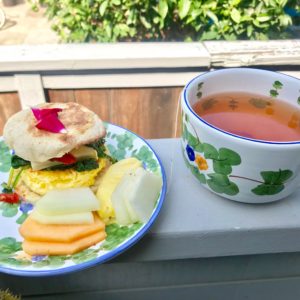 Price: This 5-day package was $305 + free shipping and handling. Like Thistle, they offer local deliveries Monday, Wednesdays and Fridays. You get 0-5 complementary dietary restriction preferences and then add $3/day for 6-10 restrictions and $8/day for 11-15 restrictions. Also, just like Kooshi, each day's food is delivered at your door sometime before the morning annnnddd you can pick and choose any day, any week and any month to use them (maybe not including holidays, not sure about that!).
If I were to do it again: Like Kooshi, I would order only once per week and spread these deliveries out. That being said, I wish they offered only breakfast and lunch because I really didn't eat all three meals every day I got this. Their breakfasts were the "MVM" (most valuable meal) for me.  Get $30 your first week with code "welcome30".
Thoughts: Ok, Crateful was yummy but I have to be totally honest, it was not quite as tasty as Kooshi and definitely didn't have the Thistle presentation! Who knows though, it may just be the bee's knees for you.

Website: https://modelmeals.com/
The 411: For all the "Whole 30" braggers and die-hards who keep "taking on the monthly challenge" out there, well here's your chance to make your highly restrictive diet-life just a little bit (or a whole lotta-bit) easier! Model Meals will make you feel instantly runway ready with their farm fresh, yes Whole 30, approved program.
Menus they offer: Each week their new menus "go live" and you have a certain window to place your orders. I must say, it's a total rush. Think of it like when your favorite sale hits Gilt!
What you can order: Anything on the weekly menu, which is then delivered twice per week.
What I ordered: A French onion frittata with celery root crust and cashew cheese, buffalo chicken wings with dill potato salad and house pickles, and meatballs with zoodles.
Price: Each meal usually ranges from $8 – $15. Click here for $25 off your first week.
If I were to do it again: Fact is I will absolutely order from Model Meals again. I love that you're not held to a weekly reoccurring subscription with them too. It's so convenient, so easy, and so yum.
Thoughts: I have a total weakness for anything "buffalo sauce" so the wings were a big win, actually to be honest the whole delivery was. I'm not usually a protein junkie (I probably should be!) but this was an effortless way for me to feel like one!
So, there you go, bon appetite! Please let me know what you think!
Off to get this day started with some mommy & me matching morning smoothie bowls (thanks to Yumi and Thistle). HOW TRENDY ARE WE?!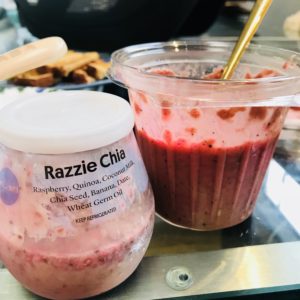 XOXO,
ICIWID