I hope everyone's gotten their fill of firecrackers, forgotten sunscreen spots, beer, bubbly, endless BBQ, and just about all things 4th by now.
But before we completely move onto the next, lets try n' squeeze one more "4" in there … month four that is … with our little Miss Xena Rae.
This was absolutely the record-setting month for "firsts". We had our first (and second) family "mini trip", a first-time pool plunge, first roll-over, first daddy's day, and the most exciting, appetizing, and entirely messy FIRST of them all, starting SOLIDS!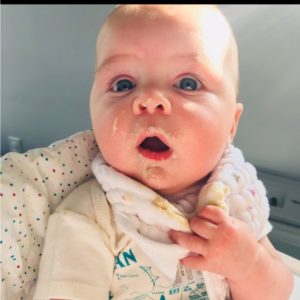 Xena was finally given the green light "go ahead" to dig into something other than a bottle or boob, which we quickly learned was a much more momentous occasion for Jordan and I, than it was for her.
We were as "stage-parenty" as could be, both with our cell phones ready to record, and warming up for every "choo choo" train, and "zoom zoom" plane spoon-ride song that we could possibly think up. Avocado seemed like a very "California" way to begin, and again, this was mainly for us, as we thought the green mush would make for a great photo opp. Which it did.
As for Xena?? She acted like each "bite" (if you could even call it that) was like taking a tequila shot, a fully dramatized body shake paired with an entirely disgusted face and tongue sticking in and out, trying to decide where the avo would better be suited.
WHOOPS.
We quickly rewound to a milder homemade smashed banana breast-milk oatmeal "dish" which seemed to be much more up her alley. Then from there, we've stuck with one new food per week.
* Something recommended by our pediatrician to help identify or catch any potential allergies.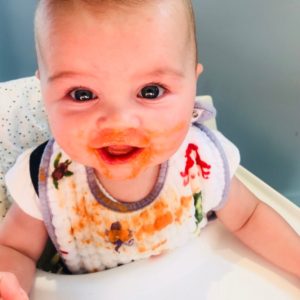 The art of baby food puree-ing, is truly just that, a culinary art. I nailed the avocado and banana fork smush, but when it came to carrots and apples, suddenly tracking down something pre-packaged became super tempting. That being said, I knew I needed to be careful with added sugars and other hidden non-necessary ingredients.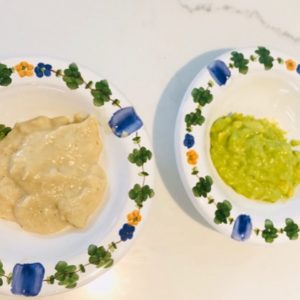 So, after minor research, I found a company called "Earth's Best" (can click below or also find it at Whole Foods) which (generally) only has two ingredients. The fruit or veggie and then water. Best yet? They make "stage 1" jars which are single serving! Genius and so simple.
Now that I've found this will I stick with them forever? No of course not, because you know me, I want to try it all! So, this week we will be testing out fresh baby food delivery (yes, that's a thing) … our piggy bank may not be super thrilled about keeping this one up forever but I figured, for the sake of the blog, it's worth a taste!
Another option we've, quite literally, mixed into our routine is the Bullet Blender's "Baby Bullet". It's super cute and will do most of the tough work for you (other than clean itself up afterwards…).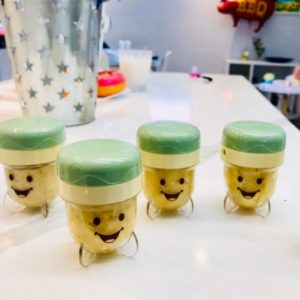 I'd recommend making an excessively large batch of your "daily mush special" and then freeze most of it for later use (freezer and storage cubes come with the pack!).
My last piece of "solid" advice – mostly from learning the hard way – is that you and your baby will very likely be covered in whatever you are attempting to feed him/her. SO, prep a tub and have your towel/soap/scrubber/rubber ducky (you get it) ready right next to wherever you're feeding. For us, that equals the kitchen sink.
You think bibs will be your best friend, and while they are cute and certainly help, they are definitely not equipped to handle the madness that is about to take place the second you open your next can of colorful smush.
As for our other firsts? Here are some quick blurbs:
Mini trip. You will very likely pack three check-on sized bags for a one to two-night trip. Don't fight it. It's way better to be safe than sorry. Also, ask your hotel if their room service will clean your bottles and pump parts for you, they may just say "yes!". Also also, request a mini fridge and electric tea kettle (a Keurig machine will work too) if you're a pumper and need to refrigerate milk and/or heat it up.
Pool plunge. If your baby's under six months old, it's apparently not advised to put sunscreen on them BUT you also don't want them to cook in the sun. Helpful solutions? Little floaty rafts that have a UV shade, UV-protecting swimwear and a sun hat should do the trick. Also, do not forget to get swim diapers!
Roll over. Is your baby rockin' and rollin'?! It's so very exciting. That being said, if your babe is anything like mine, doing it once doesn't mean they'll do it again and again right away BUT just in case I wouldn't leave them laying on a couch or changing table unattended (we've had a couple of close calls!).
Daddy's day. Well this was the best, and an excellent excuse to all wear matching outfits. Yes, we're "that family".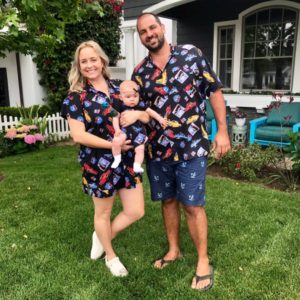 And guess what?! We're up to date!!! Time to wake my five-month sweet potato up with, well what else … sweet potatoes!
Xoxo,
ICIWID