Oh baby, we've reached the third trimester. Can you believe it?! Time to celebrate, which (duh, any excuse) is exactly what we did. "Gram Tam" aka my Mommasita (who I'm convinced is a superhero in disguise) basically became her own Pinterest board to plan a Something's Brewing tea-for-two baby shower last weekend for our little bundle-to-be.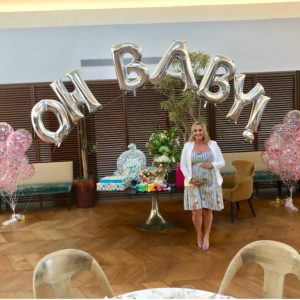 My dress is a custom teacup print from, where else, but Etsy and I personally believe that balloons like these should be a staple at any and every event. Also yes, I absolutely refused to let these deflate, or even worse, have someone POP them (can you imagine?), so am currently typing this next to said block letter bunch, which is honestly larger than our nursery.
On the same note, I'm confused why there aren't more balloon banners in my day-to-day. Can you imagine them by the coffee machine saying "latté?" or over your car saying "drive safely"? – what a wonderful world THAT would be.
Anyways, back to the point, and apologies for the baby-brain sidetrack – tea time began, as any proper British tea would, at 2pm with rose, champagne and "festive" (my word of the month) sparkling water, in flutes with floating berries and custom "Oh Baby" napkins. After all, it's important for us preggers to feel fun too.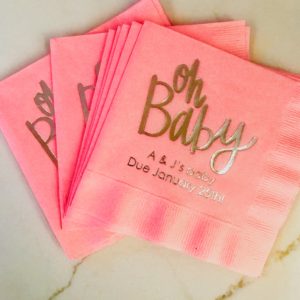 Guests scribbled advice cards for our bun in the oven, with The Supremes on Spotify adding a little moment of diva in the background.
Then it was time to sit and play fancy with finger sandwiches and pinkies up-worthy tea sets. We did a fair amount of research on the best sandwich-ettes (which Gram Tam made custom flavor flags for!) and came up with this list:
Caprese on baguette.
"The Elvis": PB & J with banana and bacon (it's insanely yummy I swear!).
Chicken pesto on sourdough.
Ricotta and fig on walnut bread.
Egg salad on toasted white bread.
Cucumber and hummus on wheat.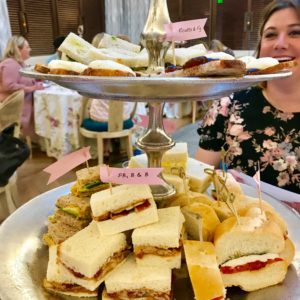 It was a perfect medley that seemed to satisfy everyone from the finicky to the foodies.
Baby blocks, peonies and heart sugar cubes dotted the tables, and game cards with "pair the celebrity baby names to their parents" kept guests pop-culturally entertained.
I was sitting next to my fairy-god-planner-for-life Mindy Weiss, who was an excellent cheat sheet as she'd planned more than half of said celebs' baby showers! #smarttableseating.
Next came the scones, accompanied by clotted cream, and a trivia "name that tune" where we sang along to chart topping hits with "baby" in the title! Think "… Baby One More Time", "Baby Beluga" and "Baby Love".
Winners received either OPI polishes tagged "Nailed It!" or Sugarfina's mom and baby piglet set with "Hogs and Kisses". So punny, I love it.
This was followed by the "sweetest" part of our afternoon – not only because it was filled with sprinkle doughnut holes and mini cheesecakes, but also because it was present time where I quickly got to unwrap and see my little girl's closet become much more chic than mine!
Everyone left on a sugar high with party favors of "s'mores" David's Tea, metal heart infusers and custom cookies by my favorite Adaptive Cookie Strategies.
It was honestly the most tea-lightful day and the perfect welcome to the last trimester and final stretch! So much to cheers to, I really do feel like the luckiest momma-to-be to have had all this overwhelming love surrounding me! (There we go, had to fit a rhyme in somewhere).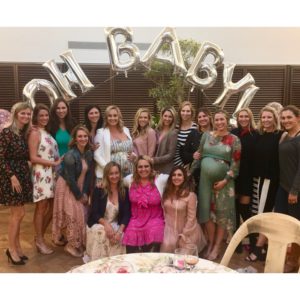 Here's to the next step, fitting all of this into the nursery. Mr. closet man is coming as we speak, wish us luck!
Xoxo,
Alex