Yes, I certainly am, both half way there and living on a prayer. Why a prayer? Because, well, I truly don't know how else to keep calm when all of this feels so very surreal and completely out of my hands.
20 weeks have come and gone – woo! – I can't believe I finally get to say that.
Let's also discuss how fooled everyone is into thinking women are pregnant for "9 months". Wrong. It's 40 weeks. Aka definitely 10 months. Why?!
Regardless of the trickery, trimester two has been so much better than the fist; it's no longer a secret; I'm only semi exhausted, not completely; AND the fruits and veggies of the week (the way us preggo gals picture the size of the human we're growing compared to a sweet potato, plum, pineapple or peach), are sweetening up and decidedly growing.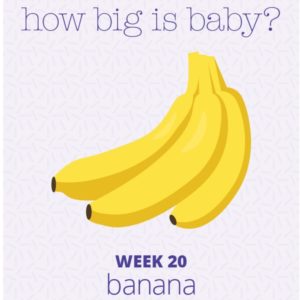 So far, this has already been the craziest adventure of my life, which is why I thought it might be a good time to take a step back, and reflect over my top 10 "lessons learned" and/or "trimester tricks":
Put your "mocktails" in the most fun glass you own (who cares if you have to hand wash it, treat yourself!). A "La Croix" with floating berries or a splash of flavored lemonade instantly makes your not-so-special water into the prettiest drink at the party.
Want to take it a step further? David's Tea has created iced "cocktail" teas – sans alcohol – in fab flavors like sangria and rose that honestly taste not only legit but also completely delicious. Again, put it in a wine glass!
If you need to nap, nap. No further explanation required. I resisted this for the longest time worrying that it seemed "lazy" of me but recently have given in and realize that, if you have an hour to rest, JUST DO IT. In a few short months these moments will not exist (at least not without interjecting screams). We need sleep as we're literally making a human being. A fair excuse.
Uncomfortable side-snoozer? Me too. Get a Snoogle. No, I'm not sponsored, but I sure wish I was – mostly because I plan on giving one to every single person on my Christmas list this year. I am convinced that they are the most genius maternity invention to date as you can literally transform this one pillow into fifteen different kinds of snuggle support systems. And if you're really getting into it (guilty as charged, literally) splurge for $15-$30 extra bucks and upgrade to a unique cover that blends right in with your bedding.It's amazing what I get excited about these days.
Maternity Spanx. Mmmhm', just as sexy as they sound, but who the heck cares?! They are a game changer. If I'm wearing a dress, I have them on. They support the bump while smoothing out any and all imperfections. Honestly a staple.
If you miss sushi, "roll" on over and get some! My local L.A. fave is Sugarfish and although I'm not enjoying my typical "Trust Me", I still get my fix in the seaweed, rice, ginger, soy sauce and wasabi with COOKED rolls. Lobster, crab, tempura shrimp, seaweed salad, edamame, the list is actually larger than you'd think and you will leave shockingly satisfied.
Same goes for coffee. I know we're allowed to have a "cup" of caffeine a day, but if you don't need it, go to a trendy hipster coffee shop that's perfected their foam designs and ask them to whip you up a half-caf, or decaf latte. Coffee dates are the best, and that doesn't have to change.
Start Pinterest stalking (or my new insta fix @projectnursery) ideas for your nursery and start creating your own sooner rather than later. My friends at "Cheeky Tummy" have a fab post with specific inspo for baby girls rooms too! Figuring out your look, and even more importantly saving up to purchase it, is a longer and more time-consuming process than you'd think. So, why stres when you can take it slow and enjoy each step?! Just like a wedding, set a goal every month. Last month mine was to fully empty our nursery-to-be and now that we have a blank canvas I'm so excited to brainstorm how to re-fill it. I've also been told, and fully believe, that this prep-step will really help your significant other realize that they are going to have a baby in their arms before they know it. The nesting's not just for the mommas.
Start a registry, not for other people to start buying you things, but for YOU to become aware of how many gismos and gadgets are out there, and which ones you really want and/or need. My best advice is to ask a friend who's got great style and has already survived the infant phase, to share hers. There are SO many options and "necessities" out there, and the last thing you want to do is learn about them for the first time in month 9.
My belly has officially popped to the "oh she's pregnant" vs. "so sad she's got a beer gut" stage, which also means that no pants or really any non-workout clothes seem to fit. C'est la vie. Time to go shopping, but for me? I don't want to splurge on maternity wear. It just doesn't feel like a financial priority. So, I go to Target. Again, not sponsored here, again, I wish I was, and yes, if you want to dress in designer instead, the catwalk is all yours. But I fool 99.9% of the people in my life with my Target picks, and LOVE when I get to reveal the deal.
So, there you go. That's my top 10, and of course there will be plenty more add-ons along the way. I'd LOVE to hear what's worked for YOU!! Two more months until I'm in my third, and in the meantime, I cannot WAIT for things to start getting distractingly seasonal around me. Any Halloween bump ideas? Time to get crafts!
Big hugs from an even bigger belly!
Xoxo,
A