I recently got back from my favorite place in the whole entire world, hence the destination wedding, CABO! – Only to find yet another reason to love it even more.
The plunge.
Fortunately yes this includes a slight plunge, more like "dip", in my weight, a pound down (woo!), but also, and more importantly, a plunge into a 50-degree pool of icy water.
If you've never done it I promise you should. It is a complete adrenaline rush that gets your heart racing quickly and actually has some pretty great health benefits too.
Ancient Chinese medicine has been using cold water for therapy decades and, following its popularity, many other cultures have warmed up (or in this case cooled down) to the idea as well.
The shock of the cold water (and cold is an understatement) is like an instant re-start button. After reading up on it I've learned not only does it help strengthen your immune system, flush toxins, improve blood pressure and alleviate sore muscles and joints, but it also perks up your overall mood!
The best thing to do is to go back and fourth from hot to cold (such as hopping from Jacuzzi to plunge) so that you get the full lose-your-breath effect.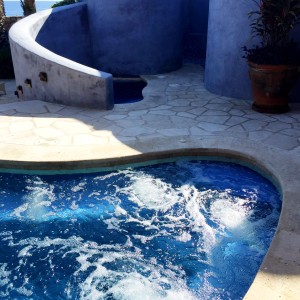 It's also important to try and not spring out of the icy pool immediately. About 30 seconds to two minutes is what's recommended, but I have to say, if that seems like torture, even a quick dip will be an excellent kick.
Want to give it a whirl?
Lots of spas and now fitness studios (such as Crossfit) now have plunge pools in their facilities. A quick Google search will guide you to the one nearest you!
If you find yourself in a plunge-free zone though, turning your shower back and fourth from hot to cold will also do the trick just fine.
Now off to channel my inner Elsa singing, "the cold never bothered me anyway."
With Frozen on my mind and an improved immune system to boot, XOXO,
Alex