Plane rides and trips to the airport are generally thought of as "vacations" or "celebrations", but if you travel as much as I do, you'd know I really can't afford to calorically think that way.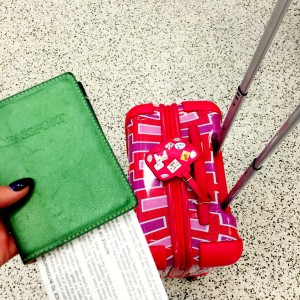 I feel like airport terminals are truly a setup for instant nutrition fail. You arrive anxious about having to stand in line for your ticket, then about actually getting your ticket, then by making sure you're not being stuck in a middle seat (my worst nightmare). This is followed by waiting in line again, for security, walking barefoot (or, if you're a germaphobe like me, with a change of socks) through a metal detector, being felt up for leaving your watch on, and THEN, only then when you're finally through the madness, and you've reached where you're supposed to be, you are instantly surrounded by every fast food chain and processed snack product that possibly exists…
AND, since you're so emotionally exhausted from the previous fifteen minutes (or two hours) of pre-gate chaos your body is saying YES "Bugles", YES "Cheez-Its" and absolutely YES PLEASE to that king size "Kit-Kat" bar. Your mind is telling you "Why not?! You'll be stuck on a plane for the next four hours so really should eat SOMETHING!".
Sadly, that "something" does not have a lot of variety, especially not the healthy kind. You either get a bag of chips or candy from the magazine store or wait in line for McDonalds, Carls Junior, CPK, Burger King or … if you're lucky … Starbucks Coffee.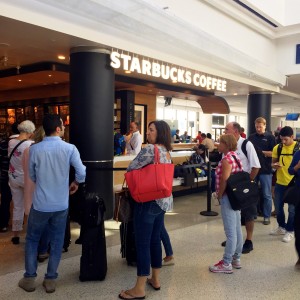 Starbucks is always an epic airport find but tends to have a line about forty minutes long with, honestly, very few options at the register other than coffee, croissants or bagels.
UGH.
I have made a vow to re-invent my airport frustrations and mentality create a game around, "How can I get from point A to point B without consuming an extra 2000 calories."
Here's what I've come up with:
Print your ticket out at home OR, even better, put them on your "Passbook" on your phones! You avoid at least the first stressful line and get to choose your seat ahead of time.
Apply for "pre-TSA" and/or "Global Entry". Yet another line disappears and I promise the process could not be easier.
Bring your own snacks. Now, I have to admit I haven't completely mastered this one, but I'm trying! And no, the snacks don't have to be carrot sticks and celery but a little apple and natural peanut butter, protein bar, or a string cheese can really do the trick!
Buy a water bottle and some "Emergen-C" or "Airborne" after security. I know the water is completely overpriced but unfortunately you can't take liquid through security. AKA if you want water that's the only option you've got. The part that makes it worth it is a) you'll be fighting all the coughs and colds around you off and b) it actually TASTES GOOD, like a fizzy soda-like drink.
AVOID alcohol. I know that's a toughy and if you are traveling in celebration you can disregard but, from personal experience, even one drink will bring out the instant munchies. If you really must cheers with something I'd go for a vodka soda or a bloody mary.
By following these steps you're maintaining a healthy YOU and also saving yourself some serious MONEY!!! There's NO need for $10 corn nuts. Trust me.
And when you're eventually en route and up in the air? Tea is your BFF, or sparkling water. Both feel like a treat. And if you're presented a salad – such as below – do NOT pour the dressing on, dip and dab the lettuce in instead. Lastly, try your very very hardest to avoid the bread baskets and warm cookies. I know that's not easy!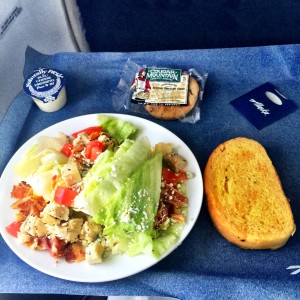 I hope these tips help to make your future travels that much smoother…
With four pounds off in the past week and a half (mission accomplished!) and about forty or fifty more to go, XOXO,
Alex