Being engaged is exceptionally special, certainly! But I quickly discovered I was far from the only one in this position. With so many other brides snatching up dates, planners, caterers, etc., it was time to get the planning rolling.
Every time I log on to Facebook, I am met with a continuous feed of grooms to be on one knee in front of girls with their hands cupped around their awed mouths.
It's not that I'm not thrilled for each and every one of them — I AM — but my lovely Greek fiancé seemed to have picked rush hour to pop the Q.
That's why I decided I needed to "get carded" immediately.
Let me introduce you to L.A.'s finest invitationeer, "Lehr and Black".
Of course I'm not so insane to pick out the actual wedding invitations a year and a half in advance (although it was tempting) but I do think that a sneaky, MARK YOUR CALENDAR "save the date" is key to ensure everyone can pre-plan and passport check for our big day.
My teammate for this meeting was my "M.O.B" (mother of the bride) Tam. My Greek asked me if it was important to be there when "all we're doing is putting a date on a piece of paper". Thank goodness he didn't see how far this was from the truth.
"Lehr and Black" is a card maker's Disneyland. VIP, cut the line, private princess meet and greet Disney experience at that.
They have everything and then more … Rhinestones, glitter, bows, beads, embossing, gold leaf, the list goes on and on and on.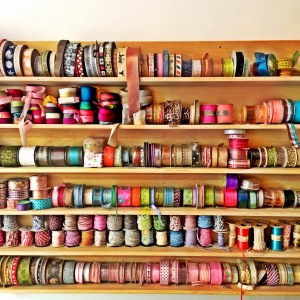 I was pointed to a monogrammed box, a wedding invitation of course, which opened to a flashing and singing iPad with a personalized video message.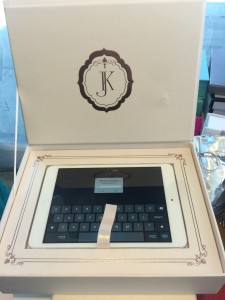 Yes, every single guest got an iPad and no, to all my family and friends reading this, I'm sorry but you will not be getting one.
That was not the most over-the-top invite either.
We chose (spoiler alert!) to go with an equally creative but much simpler route: A postcard, fitting the "destination Cabo theme". My hubby, bunny (precious French Bulldog Balu), and I will be cartooned riding in an airplane over a map that dots from Greece, to L.A., to Cabo San Lucas.
Amazing that they have artists that can do that!
The back will have all the necessary info complete with a "postmark here" in the upper right hand corner.
Too excited to get these in the mail! For all of you who are excessively eager, like me, pencil in this date:
November 12, 2016.
Sharing that, it's a perfect reminder that I need to get my butt in gear BEFORE then!
With "Forever stamps" and a slightly lighter wedding budget. Whoops. XOXO,
Alex